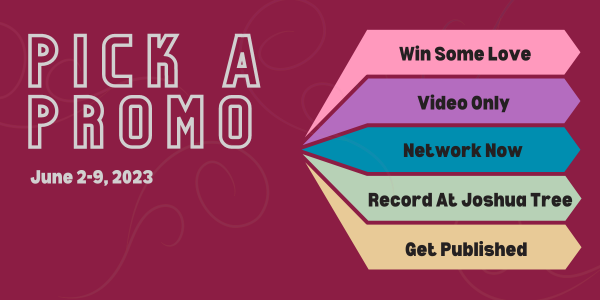 Enter your songs into the Triple Play Week Three promotion – PICK A PROMO, taking entries June 2-9, 2023. This is your opportunity to enter any of the previous special promotions, and qualify for their prizes—read more below.
Additionally, all promotion entries will be included in the overall 2023 Unsigned Only Music Competition.
---
Win Some Love Promotion
This promotion is designed to give love back to you with prizes that include merchandise, software, and networking directories well-suited for any type of artist. Please Note: This promotion is not looking for love songs. Three winners will be selected and awarded:
Video Only Promotion
This is your chance to enter a HOMEMADE or PROFESSIONAL music video into the competition. Because Unsigned Only does not have a music video category, this will be the only opportunity to enter a music video into this year's competition. This is a great opportunity to showcase your creative skills as an artist. Two winners (HOMEMADE and PROFESSIONAL) will be selected and awarded:
Video editing software to easily and effectively piece together your vision
A green screen to create the background of your imagination
Lighting to create a captivating ambiance that elevates the mood, tone, and style of the performance
Spire Studio 2nd Generation for recording behind-the-scenes audio or story-line scenes for your music videos
Network Now Promotion
The goal is to connect one really talented artist with an All-Star team of established music professionals that has a proven track record of success in the industry. One overall winner will be selected and will have the opportunity to network directly with:
Steve Lillywhite, the legendary six-time Grammy-winning producer.
Lee Anne Callahan-Longo, the artist manager who's worked with superstars like Beyoncé and Ricky Martin.
David Silbaugh, the talent buyer for Summerfest—the largest music festival in the world.
Gary Howard, a music agent at the renowned United Talent Agency, who has represented artists including Jason Derulo, N-Dubz, and Craig David.
Triple Play Promotion | Week One | Record At Joshua Tree
This promotion is designed to give our artists the opportunity to record their music in one of the most famous studios in the world. One winner from this promotion will be selected and awarded:
• Two days of studio time at Joshua Tree Recording Studio
• $1,000 (US) cash to be used for travel accommodations, studio equipment, or anything else the winner may want
• Mentorship from Daniel Forstein, an A&R representative at Epic Records.
Triple Play Promotion | Week Two | Get Published
This is your opportunity to speak directly to and network with high-profile music publishers looking for talented songwriters.
One overall winner will be selected from 10 finalists and will get to speak directly to and network with executives from well-known and respected music publishing companies including BMG Rights Management (BMG), Disney Music Publishing, Kobalt Music, and Round Hill Music.
Ten finalists will be chosen and their songs will be made available online to a group of over 1,000 publishers. Additionally, each finalist will receive a copy of the Music Publishers Registry.